The Best Free Photoshop Brushes for various projects
When a client wants creative work that combines images for one powerful message, the right brushes can make the difference between mediocre and professional level work. You can combine Photoshop brushes with layers and masks to create realistic effects. Just remember, no matter how awesome your Photoshop brushes are, the best designs are concept driven, so start there first. In this collection you'll find the best free Photoshop brushes for fur, hair, clouds, smoke, and more.
Clouds
Cloud brushes are great for creating realistic sky design or scenery. High res cloud brushes can be used to create serene backgrounds for websites. They can be combined and layered to create your own custom sky designs.
Best Free Photoshop Brushes (Clouds)
Fire
Fire brushes are great for creating explosive designs. You can layer them, adding inner and outer glow effects with layer styles to create realistic glows. Remember, subtlety and soft edges are key to true realism. rarely do you see hard edges in fire.
Smoke
Smoke brushes are great for creating abstract work, or for giving your work a smouldering look. You can do a lot with smoke brushes, and they make great abstract backgrounds as well. Smoke brushes work well as background effects, because they can be subtle, while still getting a lot of attention visually.
Liquid
Liquid, or splash effects, have become very popular recently. One popular effect is to melt a solid structure, like a person's leg into liquid. This sends a message that the person is very fluid. It can also mean that their movements are very fluid or that they are one with the elements. Combine these brushes with masks to create your own splash effects.
Paint
Being able to simulate real brushes and media will make your work look more realistic. With brushes that simulate real paint, you can create beautiful painted style backgrounds. You can also add watercolor textures to images. Use creative masking techniques to create mixed media artwork, adding impact and style to your work.
Tech
Adding tech and modern shapes to your designs will create a sense of technological advancement. If you're a Knoxville graphic designer your designs will look futuristic and appeal to those that like technology and gadgets. The following brushes would be great to use in user interfaces and designs that are considered high-tech.

Download
Bubbles
Bubbles are fun and fresh. These brushes would go great with beverage ads or ads that have to do with health and beauty. Bubbles insinuate the idea of soap, cleanliness and freshness. These brushes would be handy to use in backgrounds of aquatic themes or health spas.
Ornamnetal
Ornamental brushes are extremely useful for creating a decorative feel to a design. Using ornamental brushes or patterns can create an old world or fancy look to a design piece and really give it a classical or traditional look.

Download
Grunge
Grunge brushes are useful in any designers arsenal. You can always use grunge brushes to add texture to designs that seem to be too bland. Textures are often well received and add an organic feel, which has made them extremely popular to use in designs.

Download
Abstract
Abstract brushes are great for creating dramatic lighting in images. You can add glow effects to images that are vibrant and powerful. Some would refer to these as fractals or particle brushes as well. They add a dynamic look to design work and makes it come to life.

Download
Save
Dust Particle Brushes
Adding dust to your digital work will make it more realistic. Nothing is perfectly clean unless you're in a sterile hospital.
13 Night Sky Brushes
Add night sky elements to your work with your Photoshop brushes. You can paint them in gradually for a realistic night sky.
15 Realistic Spray Paint Brushes
It's not easy to make realistic spray paint in Photoshop. Getting the right look is tough, but this brush set nails it.
5 Abstract Fibrous Brushes
The fibrous, abstract textures are great for adding depth to you work.
20 High Res Cloud Brushes
Why look for hours for the perfect sky photo, when you can create your own with these awesome cloud brushes?
11 Skin Brushes
If you need to add texture to skin after retouching, these are some of the most useful Photoshop brushes you'll come across. No one's skin is perfectly smooth. Avoid the airbrushed look by adding texture back in with these brushes.
20 High Res Fire Brushes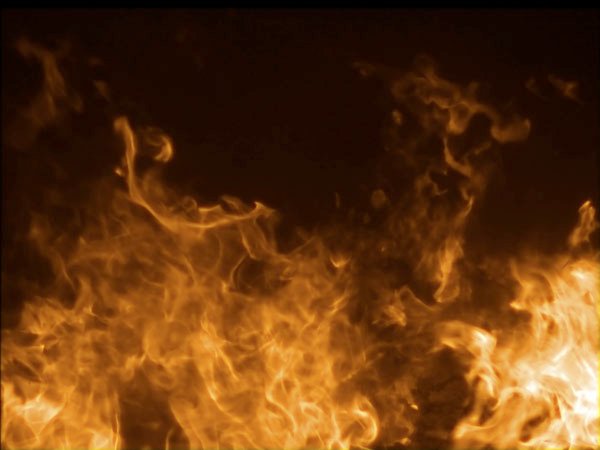 Need fire and flames? Add some heat to your work with these intense fire brushes. They are high resolution, and high quality.
12 Free Splatter Brushes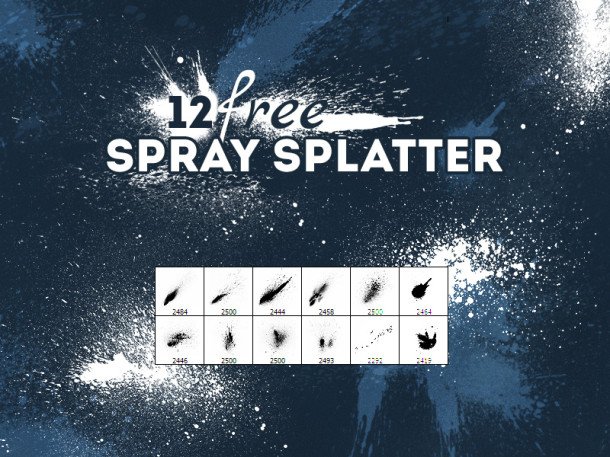 Adding splatter effects you your work is a great way to add texture. It adds motion and adds texture at the same time.
Realistic Charcoal Brush
Want to create a realistic charcoal drawing? This brush is perfect for that. Emulating traditional mediums like this is even easier if you have a drawing tablet.
9 High Resolution Fabric Brushes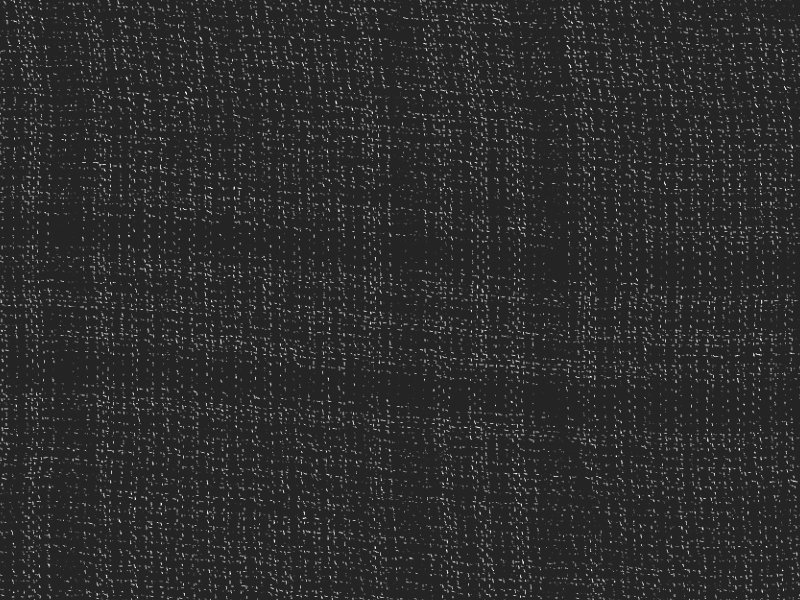 Fabric is an unmistakable texture that is consistent and easily recognizable.
12 Galaxy Brushes
Create your own space scene with this galaxies brush pack. Create nebulae and star clusters with ease.
11 Halftone Brushes
The halftone effect has been around for ages, but it's still effective. It looks great, and combined with texture it's a bold effect.
20 Shattered Glass Brushes
Use these shattered glass brushes to create an attention grabbing effect.
12 Retro Flair Brushes
Use these brushes to create a vibrant retro effect. As you can see above, this really stands out.
83 Watercolor Brushes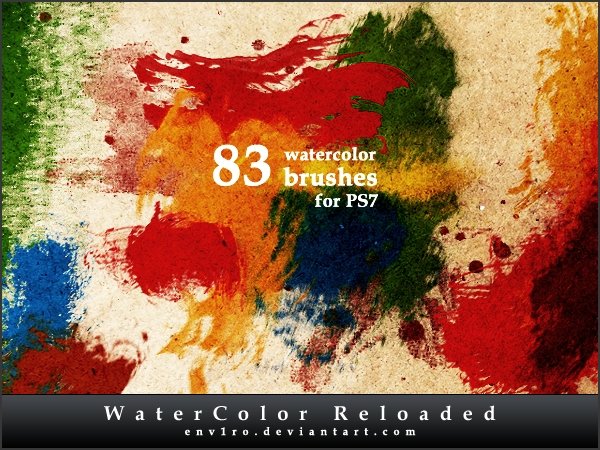 When combined with textures, watercolor and other paint brushes create a realistic effect. Layering these brushes only add to the beauty.
Vintage Stamp Brushes
There's something nostalgic about vintage postage. You can't deny how these images immediately make you think of the 1940s.
11 Water Splash Brushes
Water splashes are an excellent effect that create a sense of motion. A lot of designers will combine this with objects to give them a liquefied effect.
13 Explosion Brushes
Want to create a destructive explosion effect? These brushes will do the trick.
7 Paint Trails Brushes
Just like the screenshot above, you can added them to textures and surfaces for a realistic effect. This is great for urban and street art styles.
Skin Texture Photoshop Brushes
This is another skin texture brush pack. Using tools like these will make your retouching work look more natural.
30 Exploding Stone Brushes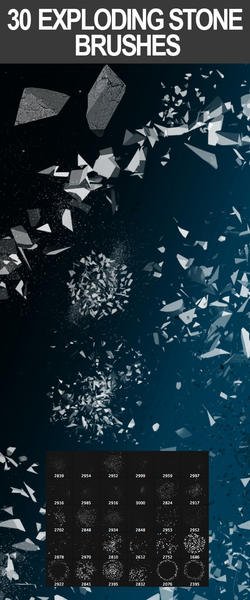 Exploding stones is a different type of Photoshop brush set. While I think it's more useful for abstract work, it would look great as a background texture for your work.
Save
Fur
These fur brushes are useful for creating realistic fur effects. You can apply these effects to objects or type. You could also use them in your next digital painting to create a realistic animal. What I like about this brush set is that the author gives you specific instructions on how to use them. This is one of my favorite sets of free Photoshop brushes.
Foliage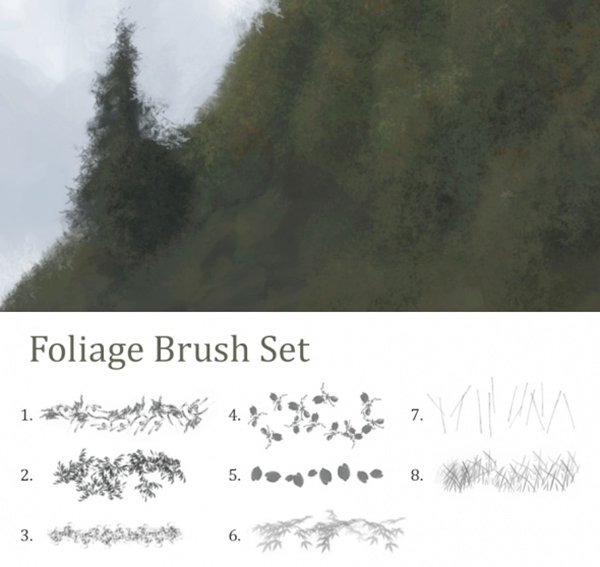 Foliage isn't easy to paint in Photoshop, but these free Photoshop brushes make it easy to build up a layered landscape painting. There are a few variations of grass and leaves that create an old-world style painting effect.
Hair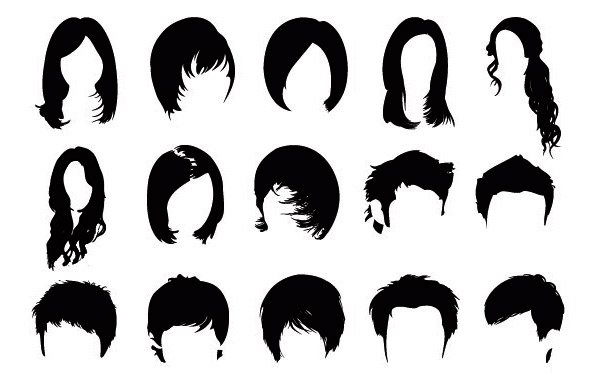 These free hair brushes are excellent if you are creating character illustrations. Using these hair brushes will allow you to focus on the face and to paint a character from different angles. I like how there are a wide range of characters, both male and female, featured in this set.
Smoke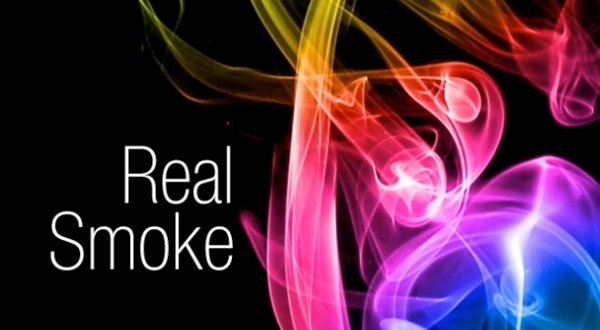 Smokes effects are great for abstract backgrounds. You can layer these free Photoshop brushes to build colorful abstract effects for website backgrounds. You could also use them in special effects. Either way, these swirly smoke brushes will come in handy.
Painted Strokes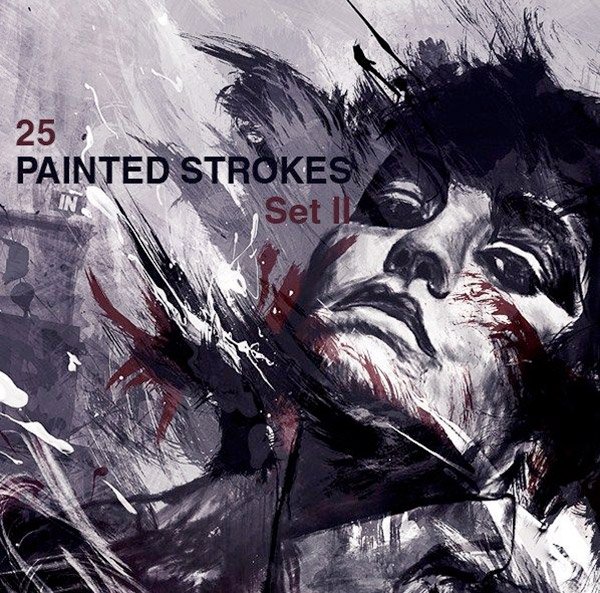 The painted strokes set is a really nice grungy painting set that is great for blending portraits or images for the quickly-painted look. These free Photoshop brushes create a real sense of action and get a lot of attention. Layering these brushes and using a variety of different ones from the set seem to be the best method for using these brushes at their full potential.
33 Flames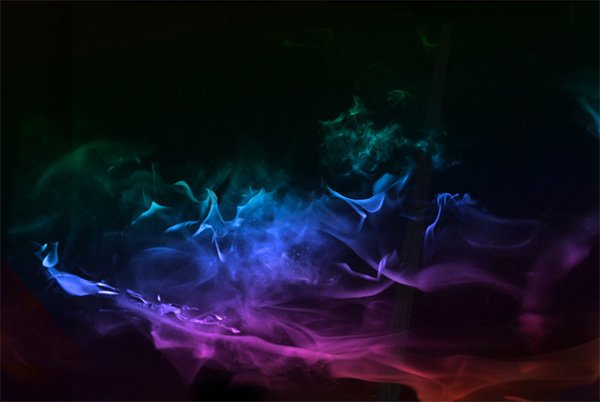 Flames and fire brushes are extremely useful in a lot of advertising. There are a lot of uses for fire and flame effects in your design work. You will get a lot of use out of these free Photoshop brushes during the summer months. You can mix and match these brushes to get the best effect.
Star and Light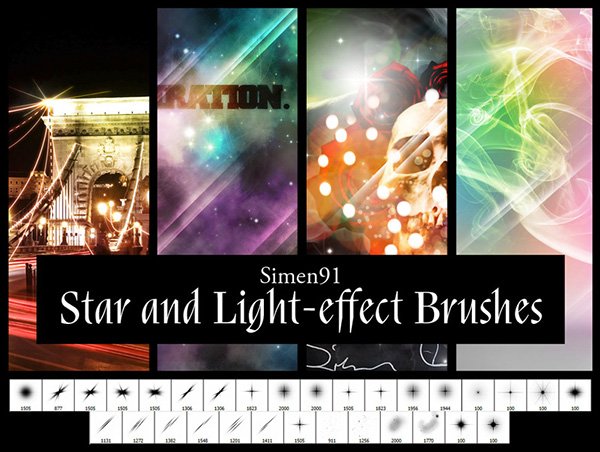 If you want to add a little glitz and shine to your work, use these star and light effects. There and several light beam and shine brushes in this set that will make any object stand out.
Ink Swirls
I included this one in the mix, because it will come in handy creating grungy effects. You can build these brushes up. You can also use these when you are drawing or painting in Photoshop. You can also layer them to create really grungy textures as well.
Leaf Brushes
Foliage brushes are always useful. You can use these in a wide variety of projects. You control the color yourself with the brush, so you can create a spring foliage scene or a fall one. Combine these with other foliage brushes and you can create a convincing landscape from scratch. You could also use these to creatively frame a seasonal flyer.
Grunge 2
Heavy grunge and gritty effects always seem to get a lot of attention. These grunge brushes can be used at full opacity, or you could layer these at a lower opacity to create unique textured backgrounds for your designs. You could also use these free Photoshop brushes in a mask on a text layer to create a grungy or destroyed text effect.
Page Curl
Combined with the layer style that is included in this pack, you can create a folder corner effect. I like how the author went the extra mile and included a round one as well. That would be hand for creating sticker mockups for promotional stickers from somewhere like Sticker Mule.
Linear Magic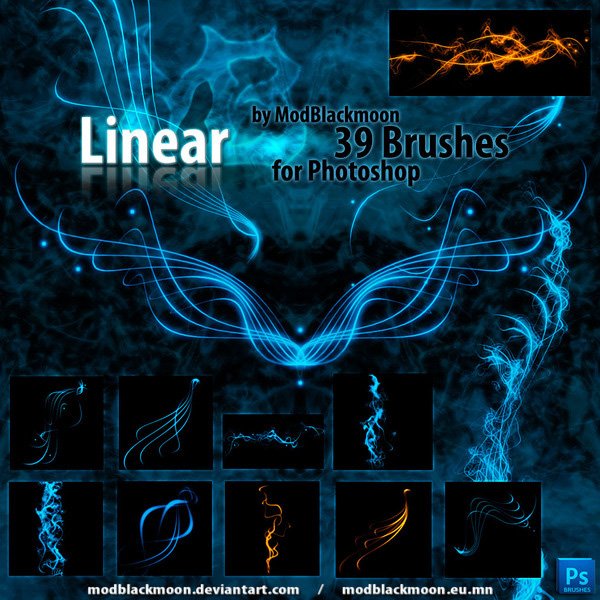 These brushes are useful for creating magical effects and special glow effects. These effects look great when enhanced with layer styles and glow effects applied to them. You can layer these and combined them with each other to create some interesting work.
Glossy Splatter
The glossy liquid brushes shown above don't have to be blood red. You can apply any color you want to these free Photoshop brushes and they look like glossy liquid splatter. They could simulate ink, or some other thick liquid, such as paint. You can combine these with photos for some interesting special effects.
Flame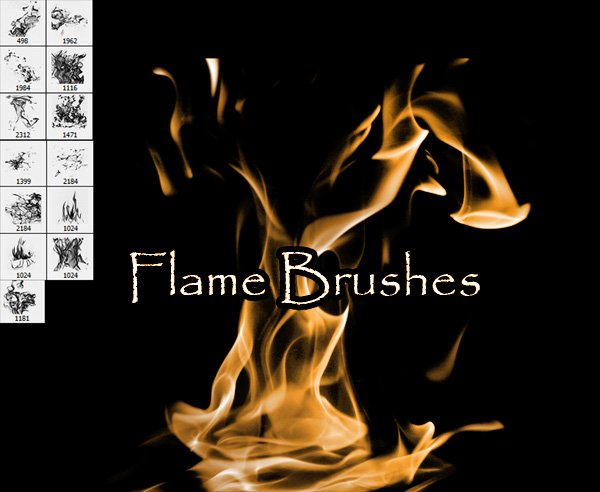 This is another set of high resolution fire brushes. They are created from realistic flames and can be combined with each other or used alone. This is useful for any project where you need to make something look hot.
Wood Grain
These wood textures will come in handy when you need to apply a wood grain texture to any surface of your work. They look realistic, and you can brush them in wherever they are needed. There are a wide variety of wood types in this pack, making it very useful.
Tron Grids
Creating grids from scratch can be annoying. You either use paths or guides to create your grid, and even then it might not come out perfectly. This brush set contains 50 grids, all at different angles, giving you the option of adding an element of dimension to your work.
Watercolor Splatter
Watercolor brushes are always useful. When they are hi-res and textured, you can layer these to create a different textures background every time. You can also use different colors to create interesting effects.
Ornaments 2
Ornamental brushes are great for adding fine details to a piece of work. There are a variety or ornaments here, and you can create some very sophisticated design work by integrating these into your designs. You could also make patterns out of these free Photoshop brushes, making them twice as useful.
Halftone3

Halftone is always useful and if you want to apply this type of effect to your work, this brush set will help you to do that. You can layer them or use them individually for different halftone effects.
152 Graphic Pack

I included this 152 graphic pack, because the shapes are handy and unique. You can use many of these brushes in a variety of ways, and with 152 or them, you can have almost an infinite number of combinations.
Conclusion
I hope you enjoy this collection of the best free Photoshop brushes. Even better yet, I hope you put them to good use. With this vast collection, you'll be able to create almost anything. Which one of these do you think is the best set? For me it's a tough choice, because I think it depends on what you're doing. Did I miss a good one? Share it in the comments section and I'll compile another collection in the future.
Save
Save
Save
Save
Save
Save
Save
Save